Robin's era which is often thought to have been during the reigns of Kings Richard and John is incorrect. Barbara A. Buxton writes: – "The legal and royal records for the reigns of Richard I and King John are quite adequate to detail Robin's offences, but they do not. Neither is the name of the sheriff ever mentioned even though the names of sheriffs were recorded as far back as 1135. There were no friars in the England of King John, the first came to England in 1221."

Professor Holt writes, "It (Major's conception) was not reinforced by argument, evidence or proof it was simply recycled through later versions of the tale and so became an integral part of the legend." Neither is this view supported by the earliest ballads that name the reigning monarch as "Edward."

Professor Holt himself is of the opinion the origin of the "Gest of Robin Hood" is c.1450, certainly no earlier than 1400 and was printed in the late 15th century. This is in accord with Professor Thomas Ohlgren who writes the Gest was "commissioned by one of the fifteenth-century guilds—possibly the Dyers Guild in the light of the numerous references to cloth and liveries—to commemorate Edward III not only as the protector of the English Channel but as the founder of seven of the twelve Great Livery Companies." Dating Robin Hood as evidenced by Pierrs Plowman 1377; the Corpus Christi Plays 1376; and the Gest 1450 leaves little reason to pre-date Robin Hood before this time.

1221. The first friars arrived in England at this time. This is after the deaths of King John and Richard Lionhearted.

1252. The first yeoman archers.


c. 1300 onwards is the late medieval period. Professor Holt confirms Robin's activity conforms to fourteenth and fifteenth century feudalism which is the era in which the rhymes are set. This is when land owning yeomen and yeoman officers were of equal social status and soldiers were maintained by their local lords in return for loyal service. We can see this in the Gest when the sheriff tells the king that the knight "maintains" the outlaws to the detriment of royal government which undermines their authority.

"He will avow what he has done,
To maintain the outlaws strong,
He will be lord and set you (the king) at nought,
In all the northern land."  (John Gisbourne had his own army and livery in the form of a badge.)

Another pointer to the period in which the rhymes are set is Robin's and Little John's notable "courtesy" towards other people which was again fashionable in the fourteenth and fifteenth centuries especially in feudal households and the knightly class at court, an example in the Gest is seen with Little John's first encounter with the knight:

"Little John was very courteous,
And knelt on his knee,
"Welcome are you, courteous knight,
Welcome are you to me."

1319. Pavage Tax that we read about in Robin Hood and the Potter was not introduced until 1319 in Wentbridge. (David Greenwood)

c. 1322. First known use of Lincoln Green was at the Battle of Boroughbridge.

1327 King Edward III ascended the throne 1327, his marriage to Philippa of Hainault was celebrated formally in York Minster Cathedral on 24 January 1328, they stayed in the Franciscan friary. Their first son died as a child and was buried in York Minster. Edward moved his government to York and with so much bullion and plate held there, robbers clustered around the main roads into the city. (Barnsdale as well presumably?) Parliament gathered 15 times in York.

c. 1335. Robin Hood born otherwise known as Robert Dore of Wadsley which includes Loxley.

1336. Gisbourne born.

c. 1350. Robin outlawed from Loxley for killing his stepfather at plough. He fled to the Calder Valley where he met Little John. (Roger Dodsworth) Kirklees Priory is in the Calder Valley.

c. 1350. The period known as "Merrie England" begins. This is described as "a utopian state of life to which peasants aspired". The onset of the Industrial Revolution c. 1520 marked the end of "Merrie England." (Ronald Hutton).

1354. Robert Hode from Loxley begins his apprenticeship as a litster possibly supported by a relative in York called Johannes Hode who is a baker and miller. He has already been admitted to the Freedom of York and has a son whose family name "Robertus Hode" is much like Robin's own. Much was born c.1341 and is portrayed as Robin's adopted brother in the television series Robin of Sherwood.

c. 1355. Edward III held tournaments throughout the country in order to identify and train the best and strongest men for war and Poitiers was just a short time away. In the Gest we read how Little John, disguised as Reynolde Grenelefe, demonstrated his archery prowess by splitting the wand. Impressed with his skill, the sheriff offered to retain him for a fee of twenty marks a year and a good strong horse i.e., a retained knight. Later in the Gest the sheriff again organized a tournament, and this time Robin Hood took part and won the prize of a silver and gold arrow. In the second game, "plucke buffet," Robin and King Edward, now dressed in Lincoln green supplied by Robin shoot at targets-more tournaments-to find the best archers while riding to Nottingham.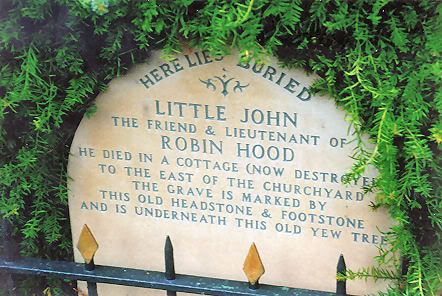 1357. When "King John of France was defeated at Poitiers he was taken to London and on the journey upwards of 500 yeomen lay in ambush clad in tunics and cloaks of Lincoln Green with bows and arrows, swords and bucklers. They sprang out on him as if they were a band of robbers and evil-doers and when King John asked what manner of men they were; the Prince replied that they were Englishmen living rough in the forest by choice and that it was their habit to array themselves so everyday." (Holt-Anonimalle Chronicle (ed. V. H. Galbraith), p. 41.) The reason for this is unclear but A. J. Pollard says it was a mock ambush and in this context the word "mock" may be right if they were celebrating the defeat of the king of France. This was twenty years before William Langland gave us the first literary mention of Robin and thirty years before Robin Hood was outlawed in the Peasants Revolt, we need to remember as well that Robin was originally outlawed from Loxley and there were many pardoned outlaws fighting at Poitiers and Cressy. The 500 men would be equivalent to a battalion of archers with Robin Hood being their commanding officer and Little John his Lieutenant as it says on Little John's headstone in Hathersage. (The wearing of livery did not begin until the 14th century meaning Robin Hood cannot have been active in the reign of King John.)

1361 Robert Hode finishes his apprenticeship and begins a period as a journeyman.
c. 1362. Gisbourne's son-in-law born. He was William Plumpton born in Plumpton, Yorkshire where Robin hunted, There is a record in Fountains Abbey that William's minstrel was paid eight pence. (Holt). Gisbourn's wife Ellen was related to Robert and John Morton who were Sheriffs of Nottingham and Yorkshire respectively having family and property in Yorkshire accounting for the sheriff of Nottingham being in that county. Robert's wife Joan was lady-in-waiting to Richard II queen, Anne of Bohemia.

1364. Robert Hode (dyer) admitted to the guild after an apprenticeship followed by being a journeyman, total time ten years. He would have known Gisbourne during this time.

1369. Robin hunted deer in "Plomtom Parke which makes one wonder if the Plumptons, Gisbourne and Robin Hood were mutual acquaintances?

This was the year Edward III "granted a special pardon to all except forest officials who had committed forest offences as recognition for the 'great aids' the Parliaments had granted him."

It was about this time that Wycliffe who was Master of Balliol College, Oxford and clerical advisor to John O' Gaunt began a series of lectures to correct the abuses of the clergy and their open wickedness. He began at Oxford with a series of lectures supported by John O' Gaunt and Edward III who remained "a most valiant champion of the truth among the tyrants of Sodom."
‭1377. Edward "Our Comely King" dies. Richard II came to the throne.
William Langland who gave us the first literary mention of Robin Hood was a priest from Hereford and is described as a protégé of Wycliffe. Robin Hood's birth name was Robert Dore and Abbey Dore is in Hereford. The Bishop of Hereford when Robin Hood was living was William Courtenay. He was the Archbishop of Canterbury, he held prebends in the churches of Exeter, Wells, and York and was the Chancellor of the Exchequer for four months when he resigned on the 18 Nov 1382. He was often in Barnsdale on his way to York to collect his stipend and in the rhymes Robin robbed the Bishop of Hereford and forced him to say a mass and do a dance. Robin Hood was made the Earl of Huntington by Anthony Munday and Huntington Castle is in Herefordshire.
1380 and 1382/3 the sheriff in York either side of the Peasants Revolt was Sir John Savile. His descendent bought Kirklees Priory where John's sister Margaret had been prioress. At this time of social unrest and change the lower classes and criminal gangs began imitating the aristocracy by giving their men livery. Robin Hood clothed his men in scarlet or Lincoln green and Gisbourne gave his 1,500 strong army a badge and hood. 

1381. Robin was outlawed for his involvement in the Peasants Revolt. John Ball the leader of the Peasants Revolt was hung. He was a Lollard priest. Simon Sudbury was beheaded. He was the Archbishop of Canterbury and Chancellor of the Exchequer who imposed the Poll Tax that led to the Peasants Revolt. The Sheriff of Yorkshire at that time was Sir Ralph Hastings and his descendants christen their children "Robin Hood" as in the "Honourable Aubrey Craven Theophilus Robin Hood Hastings."

1382. Robin received the King's pardon.

1384. John Wycliffe the reformer died. He campaigned against the robbing mendicant friars. His followers were known as Lollards.

1390/91. Gisbourne and John Saville both died in 1390. Robin received the Freedom of the City of York in 1391. There was a great plague at this time and 12,000 souls died in York alone. Is this what became of Robin Hood who perhaps also caught the plague causing him to go to Kirklees to be healed by the prioress?

1396. William Courtenay died. He was the Bishop of Hereford and Prebendary of York. He succeeded Simon Sudbury as the Chancellor of the Exchequer and Archbishop of Canterbury. His journeys to York will have taken him through Barnsdale. One of the first things he did was to attack the Lollard movement led by John Wycliffe.

1398. Ralph Hastings the Sheriff of Yorkshire died. His descendants trace their ancestry back through the Talbot and Furnival families who were the Lords of Loxley. They became the earls of Huntingdon and they christen their children "Robin Hood," for example "Aubrey Craven Theophilus Robin Hood Hastings."

1400. William Langland died.1400. A priest and author of Piers Plowman. He gave us the first literary mention of Robin Hood.

1414. Most friars had been expelled from England.

1475. First known use of red and white livery. Mentioned in the Gest.
1597/8. Anthony Munday collaborated with Shakespeare and others in the writing of two plays called "The Downfall of Robert, Earl of Huntington" and "The Death of Robert, Earl of Huntington." The gentrification of Robin Hood by Anthony Munday may owe its origin to Ralph Hastings who was the Sheriff of Yorkshire at the time of the Peasants Revolt.
When Ralph's descendent George Hastings was elevated to the Earldom of Huntingdon by Henry VIII in 1529 Anthony Munday gentrified Robin Hood in line with George Hastings gentrification and this tradition has been continued by the Hastings family who christen their children Robin Hood as in William Edward Robin Hood Hastings-Bass (b. 1948) who is the present and 17th Earl of Huntingdon.
With the closing of the monasteries and the demise of the mendicant friar, the titles of Munday's two plays regarding the downfall and death of robinhode take on a new significance.